Information Technology Infrastructure Library (ITIL) is part and parcel of IT service management for businesses. And, because IT is booming everywhere, the need for specialisation in the field is in huge demand.
The Information Technology industry continually looks for professionals who can understand service management to the core and can apply their knowledge bank to assure businesses that their targets will be met. Here's the picture of why the concept is considered vital and so popular amongst organisations:
The program for ITIL certification in Dubai, in many ways, is paving a way for graduates and degree holders to take up the opportunity and bag a fat-salary job in IT service management. The good news is, the requisites are not very huge; you just need a basic knowledge about the concept. Here's a report from Indeed.com revealing how the certification is excessively sought-after and doing exceedingly well in modern times: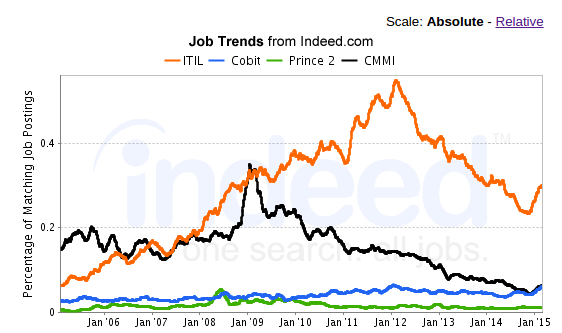 Global Knowledge and Windows IT Pro had conducted the IT Skills and Salary Survey in 2015. According to the report, ITIL is amongst the top paying accreditations of today.

But, achieving the expertise can be a time-taking process. You will have to put your best foot forward, and be very dedicated toward your studies. Consistency is a must throughout the entire course. And, if you can manage to survive the training, you will realise how the knowledge you have gathered, will eventually help you immensely in maintaining a balanced work environment. You will turn into a pro!
Where to begin?
The ITIL Foundation certification from EXIN in Abu Dhabi would be the point where you will begin. Sometimes, you need to pass a multiple-choice exam as a prerequisite. But, a thorough knowledge about the basic concepts and fundamentals of IT service management is more than enough.
The topics that you'll be taught:
In general, this course will touch the following topics:
Service management.
ITIL services.
Concepts of ITIL.
ITIL models and principles.
ITIL process and function.
Technology of ITIL.
ITIL architecture.
Competent practices.
The certification can be a game-changer for your career in IT. It can show you the way toward better increments and a rise in your career graph.
The examination:
The exam is a 40-question, multiple-choice test. For every question, you will be offered four choices of answers, of which, only one is correct. You must provide the correct answers to 26 out of the 40 questions. In other words, you will need to achieve an overall percentage of 65 to pass the examination. Of course, there are no negative markings for wrong answers.
Your designation after passing the exam:
Passing this examination will open opportunities for the following job titles:
Process Coordinator
Incident Coordinator
Change Coordinator
Configuration Analyst
The big players of the industry are increasingly looking for certified professionals who can manage their organisational framework. So, act smartly and strike when the iron is hot. Get yourself trained today and have a bright career tomorrow!
Tags: ITIL Certification In Dubai, ITIL Foundation Certification From EXIN Abu Dhabi