Imagine yourself as a station master in the UAE. Can you make every train arrive and leave on time? Again, imagine yourself as the CEO of some company. Can you ensure that no employee is late for office ever?
Seems impossible, right? But, this is exactly what Six Sigma teaches you to do.
The idea is to minimise the defect levels within organisations regarding product and processes. These levels should not be more 3.4 defects per million opportunities, suggest the Six Sigma management approach.
Initially developed at Motorola, this systematic approach helps in increasing sales and supporting customer conversion. It is a highly potential concept of improving the quality of product and services remarkably.
Implementing it will not burn a hole in your pocket. Instead, you will have a well-crafted plan to make the operations of your company better, save money, and satisfy customers, too.
All you need to do it attend a certified quality manager course in Dubai for Six Sigma, and gather knowledge about the basic principles of it.
So, what really is this approach?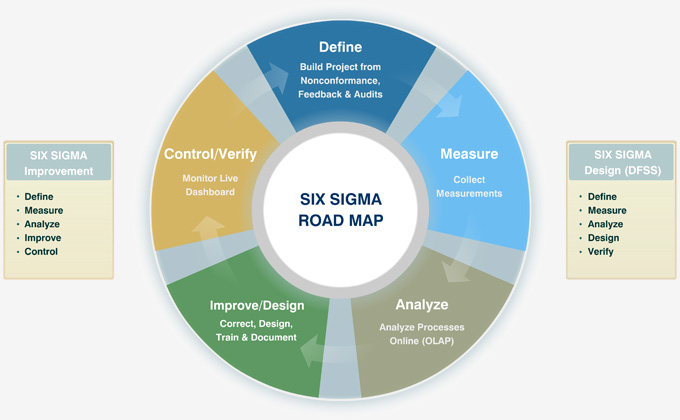 Six Sigma is dependent on a number of statistical tools. 'Sigma' is a Greek letter which is used by statisticians worldwide to describe variability in terms of 'standard deviation.'
For instance, if a product manufacture process involves 30 different parts and 5 different steps, the number of chances of a defect occurring is 30 X 5 = 150. Now, if there are a million errors in a million assemblies, this means that there's one error in one assembly on an average.
To sum it up, there will be 1000000 x (1/150) = 6666 errors per million chances in the product manufacture process. This will correspond to a Sigma Quality Level of 3.97. Here is the relationship between Sigma level and parts per million (PPM):
| | |
| --- | --- |
| s | PPM |
| 2 | 308,537 |
| 3 | 66,807 |
| 4 | 6,201 |
| 5 | 233 |
| 6 | 3.4 |
What are the benefits of using this approach for quality management?
Whether you have a manufacturing unit or are into healthcare, whether you are a human resource personnel or technical support executive, your ultimate focus should be on improving the quality of your product and services. When you are a certified Six Sigma quality manager, you have an upper hand over other general professionals.
The approach positively influences businesses in the following way:
# It helps in speeding up processes at low costs.
# It is multifaceted, and can be implemented in a number of businesses conveniently.
# It lets you focus on quality improvement, which is very crucial for customer retention and conversion.
# It helps in dismissing the variations and inconsistencies in business processes.
# It allows the top management bodies in organisations to take active part in running businesses.
# It helps in achieving quality improvement objectives.
# It lets you identify the crucial aspects of your business that are important for customer conversion.
# It assists in ensuring a strong foothold in the marketplace for vertical businesses.
# It lets you assess market performance.
# Because Six Sigma is based on facts and data, it eliminates personal preferences, which can hamper businesses.
Once you are certified, you can execute a quality improvement plan successfully and enjoy the outstanding benefits of Six Sigma. So, are you ready to go for it?
Tags: certified quality manager certification in UAE, certified quality manager course, certified quality manager training in abu dhabi